Seattle Residential Prices Trend Higher, But Demand Shifts Are Imminent
After six months with the second-fastest home price growth in the nation, Seattle was finally joined by the rest of its West Coast peers, each of whose residential price indices rose year-over-year in July 2020. Many restrictions related to COVID-19 remained in place across the country; yet the broadly higher results on the Case-Shiller Home Price Index (published by S&P Dow Jones) signaled that sellers and buyers would wait no longer to transact while interest rates remained low. Nationwide, Phoenix remained the leading city on the index, although prices in that more moderately-priced market remain far lower than those of Seattle and other leading cities in the Western states. In the Puget Sound region, political extremism prompted leading employers to plan relocation. While not immediately threatening home prices, exits from the city and the region are likely to rebalance housing demand relative to supply, as described in this month's report.

​​​​​​​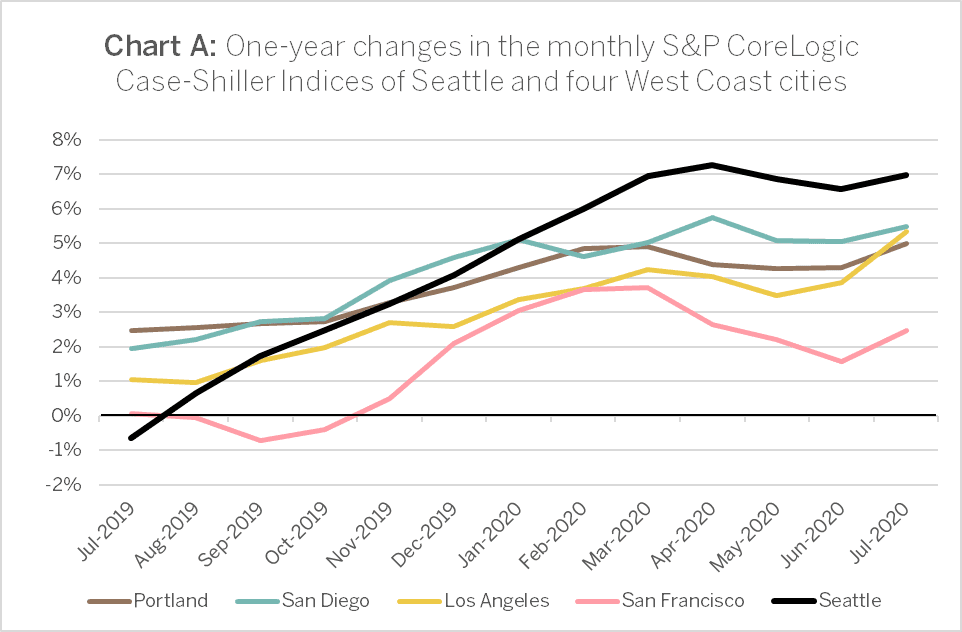 ​​​​​​​
The CoreLogic Case-Shiller Home Price Index results published by S&P Dow Jones on September 29 showed a 12-month index increase of 7.0 percent for the Seattle MSA, for a 0.4 percent increase (as the June results were revised upward to 6.6 percent from 6.5 percent year-over-year). This result matched the March increase in the index, and indicated that COVID-19 fears had been fully digested by the market. The home price indices of competing cities advanced to 5.0 percent from 4.3 percent year-over-year at Portland, Oregon; to 5.5 percent from 5.1 percent at San Diego; to 5.3 percent from 3.9 percent at Los Angeles; and to 2.5 percent from 1.6 percent at San Francisco (Charts A and B).

​​​​​​​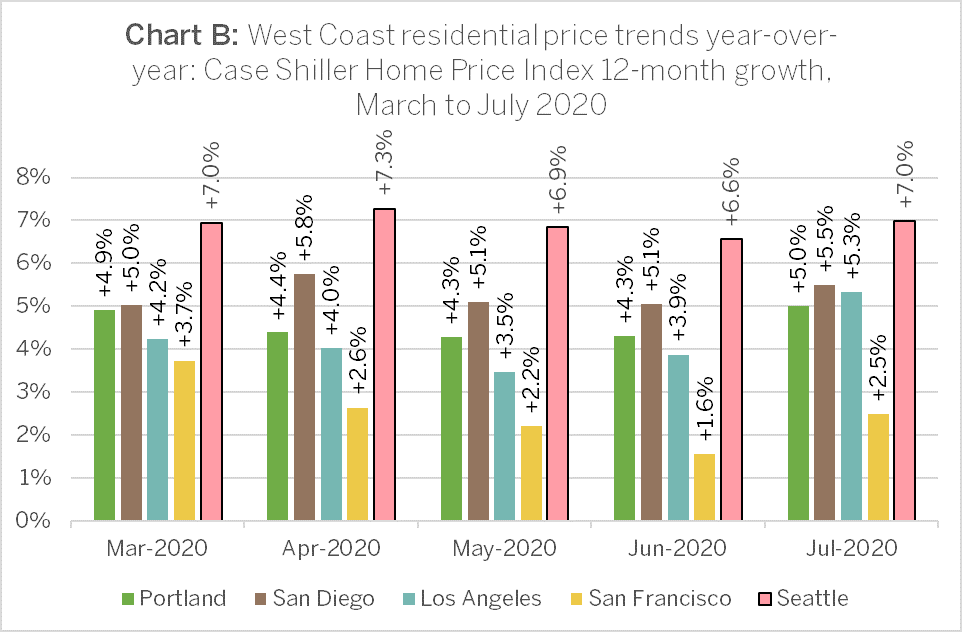 ​​​​​​​As Craig J. Lazzara, Managing Director and Global Head of Index Investment Strategy at S&P Dow Jones Indices observed,

"In previous months, we've noted that a trend of accelerating increases in the National Composite Index began in August 2019. That trend was interrupted in May and June, as price gains decelerated modestly, but now may have resumed. Obviously more data will be required before we can say with confidence that any COVID-related deceleration is behind us.

"Phoenix's 9.2 percent increase topped the league table for July; this is the 14th consecutive month in which Phoenix home prices rose more than those of any other city. Seattle (7.0 percent), Charlotte (6.0 percent) and Tampa (5.9 percent) continue to occupy the next three places," Lazzara said.

​​​​​​​

Political effects on demand and supply
While Seattle city residents are divided on the recent strife between Mayor Durkan and the majority on the Seattle City Council, the region's leading employers are voting with their feet. Amazon had already taken steps to relocate their employment centers to Bellevue after the first abortive "Amazon tax" in 2018. Those plans were borne out by forward-looking remarks in February and again in September 2020 about the mammoth company's headcount expectations in Bellevue. On 10 October, Boeing confirmed news reports from the preceding day that it would close all 787 Dreamliner production at Everett, relocating those operations to North Charleston, South Carolina. Although a subsequent statement by the Governor's office claimed the "move could jeopardize as many as 1,000 Washington jobs," contemporaneous reports portended far higher losses. The 787 operations directly employ 30,000 Boeing workers; and Boeing indirectly employs workers at its many contractors statewide, according to the Everett Herald. ""Should the 787 assembly line close, thousands of additional job losses could rock the region and trigger job losses at 1,200 companies across the state, including 200 Snohomish County companies, that are part of Boeing's supply chain."

​​​​​​​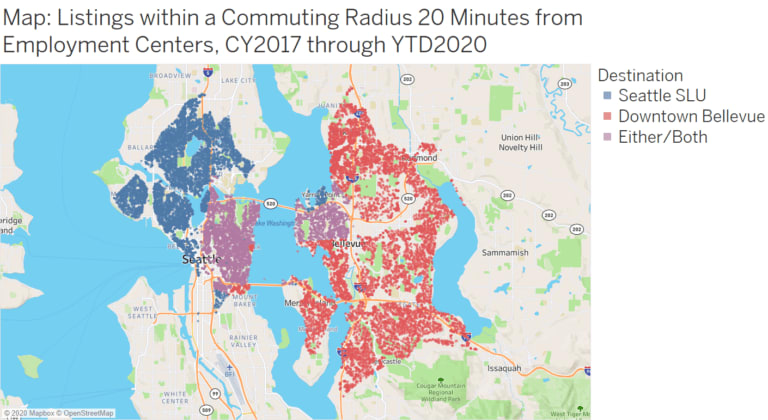 ​​​​​​​Many smaller businesses have struggled under COVID-19 restrictions and unrest in the city. The Seattle Times reported in mid-September that the Columbia Sportswear store at Third Avenue and Pine Street, looted during the May 30 protests, will not reopen. This store joins 126 other downtown businesses that have closed permanently, according to the Downtown Seattle Association. Some of the retail businesses, as well as other service providers and professional firms, may be expected to join Amazon's relocation to the Eastside in the coming months and years.

​​​​​​​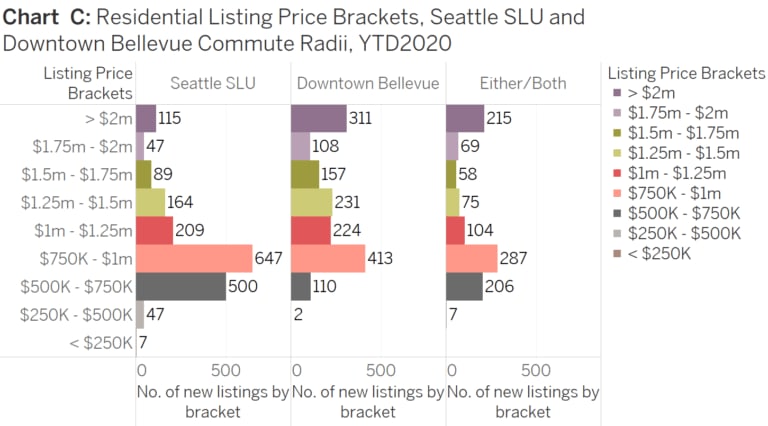 ​​​​​​​​​​​​​​The impact of this shift is to divert some commuters from their routes into downtown Seattle over to the Eastside. There will be real estate demand impacts, as some business owners, executives, and employees will be sufficiently burdened by the new commute to consider relocating their households. Yet current homeowners and prospective new buyers qualifying for less than a million dollars will likely search in vain. There currently is not enough supply on the Eastside to accommodate an outsized wave of buyers at or below this price threshold, and any surge in purchases will push Eastside prices even higher. Chart C above illustrates the comparative price brackets of recently-listed homes within a 20-minute commute of Amazon's South Lake Union headquarters, compared with homes at the same distance from Amazon's West Main location, as well as homes within a 20-minute commute of both.

​​​​​​​This is the probable impact of Amazon's relocation, but what will happen if Boeing leaves as reported?
​​​​​​​


The path of least resistance
Trends in North Sound inventory over the past three years hint that Boeing's exit may actually exert a countervailing effect on Eastside housing supply constraints. A widespread freeing up of housing stock in Snohomish and North King Counties would open an alternative path for current and prospective homeowners. It would enable them to find more affordable housing within a reasonable commute of Downtown Bellevue, as well as other Eastside locations scouted out by relocating employers.

​​​​​​​From 2011 through 2015, as Seattle's residential markets heated up, selling volumes north of the city initially rose at a similar pace. By 2016 however, King County's skyrocketing prices and tightening inventory were forcing more and more buyers to "drive to affordability" in the outlying areas. With effect from that year, the proportional increases in annual selling volumes in Snohomish and even Skagit Counties began to outpace those of King County (Chart D).

​​​​​​​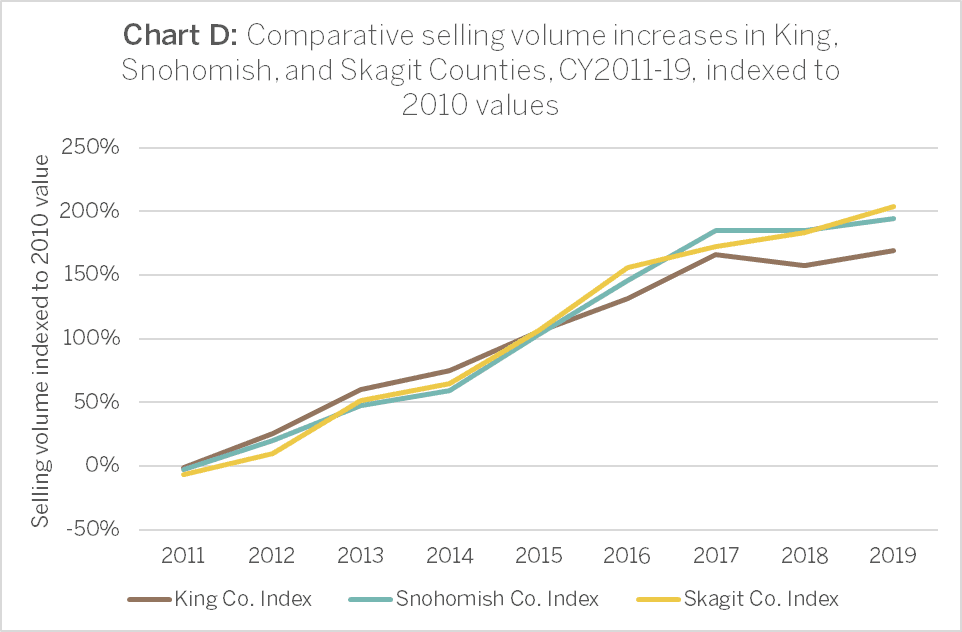 ​​​​​​​Within two years, the ebullient selling in exurban towns began to deplete inventories relative to those in the city (Chart E). That comparative scarcity worsened even as the market slowed in 2018, and accelerated again as it rebounded in 2019. Residential inventory in these counties remains remarkably low, with consequently higher home prices.

​​​​​​​All this is good news for prospective sellers in North King and Snohomish Counties who are considering their own relocation, or even just moving up. The demand for homes in these areas is already in the market. With Boeing's relocation now baked in, the timing could not be better for homeowners to maximize their returns from the price increases of the past eight years.

​​​​​​​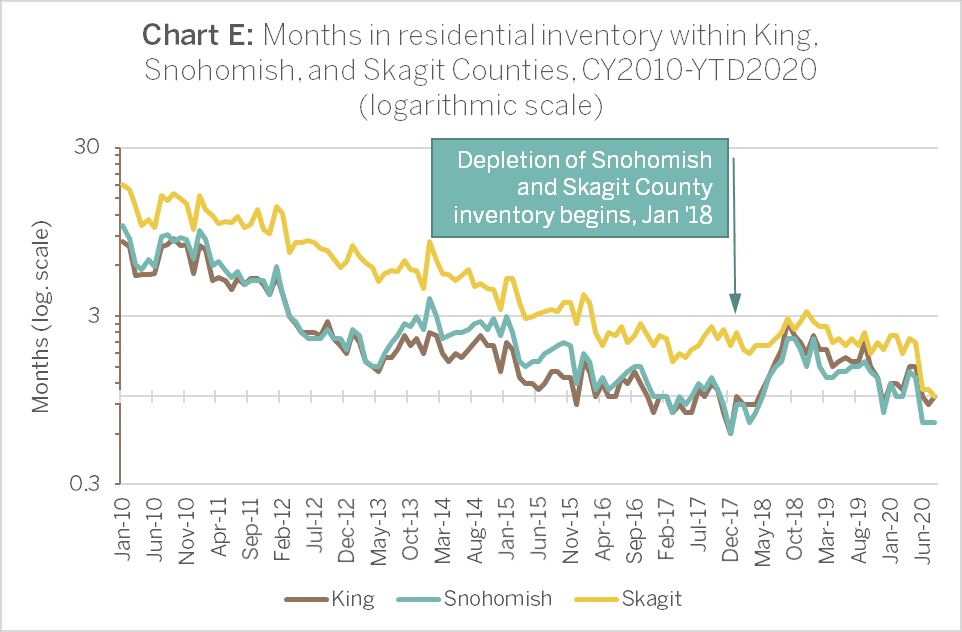 ​​​​​​​For more details on the July 2020 Case-Shiller Index results, download the S&P Dow Jones Case-Shiller summary report. For details on the market implications of our reports for homes in your neighborhood, contact a local RSIR broker.
Published by S&P Dow Jones, the Case Shiller Index surveys resales of residential homes in the Seattle MSA. The index notably does not account for condominium sales. "S&P CoreLogic Case-Shiller Index Reports 4.8% Annual Home Price Gain in July," S&P Dow Jones, New York, 29 September 2020.
Ibid.
John Schoettler, "Bringing additional jobs to Bellevue," Day One: The Amazon Blog, 4 September 2020.
Austin Jenkins, "Inslee statement on reports that Boeing intends to move 787 production to South Carolina," NW News Network, 30 September 2020.
Janice Podsada, "Report: Boeing will end 787 Dreamliner production in Everett," Everett Herald, 30 September 2020.
Paul Roberts, "Columbia Sportswear is the latest downtown Seattle business to pull out due to the coronavirus," Seattle Times, 21 September 2020.

​​​​​​​